Sapa is a small town im northwest Vietnam, it's well known with stunning rice terraces, majestic mountain scenery with Fansipan peak- highest mountain in Vietnam.  With the elevation over 1600m above the sea, the weather in Sapa has temperate zone, the cool weather through the year. Now, Sapa is developing as a relaxing tourism destination & must to go list in North Vietnam.
We would like to share you some useful Sapa Travel Guide you need to know before visiting. 
When is the best time to travel Sapa?
The average temperature in Sapa is 15 degree. In summer, you can experience 4 seasons in one day. In winnter, there is often foggy & cold, the temperature can down under 0 degree, sometime we see snow, especially on the high mountain like Fansipan. The rain season start from May to August.
So before do a trip to Sapa, you can consider some weather informations as below:
Spring ( from Feb to April):  This is the most beautiful and best time to visit Sapa, because it's less cold, less foggy. The sky is clearer and it's time for blossom flower. Every village in Sapa is more beautiful with the beauty of Peach flower – the symbol of spring in North Vietnam,
Autumn ( from late of Aug to Oct): This is gold time because all valleys were covered by yellow color of rippen rice. The famous rice terraces in Sapa such as Muong Hoa valley, Y Linh Ho- Lao Chai -Ta Van,  Y Ty, Muong Hum…
Summer ( May to Aug): This is the rain season, the time to fill water to rice terraces fields. You can meet the local working on the rice terraces. It's also the time to avoid the hot weather of summer in North Vietnam.
Winter ( Nov- Jan): It's often the coldest time per year. If you want to see the snow, you can visit Sapa this time.
How to get to Sapa?
From Hanoi to Lao Cai by train & transfer to Sapa by bus or private car
The distance from Hanoi to Lao cai is around 300km, you can choose to travel by train or bus. The time to transfer by train is 8hrs ( start from 21pm to 6am) and the space is larger, more comfortable so in the past, most of foreigner travellers often choose to travel by train.
The disadvantage of train is quite expensive ticket and noisy. Remember bring the ear plug if you sleep difficultly.
Next morning, when arrive Lao Cai station, there are many buses waiting to transfer tourists to Sapa. If you book a tour with any travel agency, they will arrange a pick up service from Lao Cai to Sapa by private car or shuttle bus. It takes 1hrs transfer from Lao Cai to Sapa.
From Hanoi to Sapa by bus
Since 2013, when the high way Hanoi – Lao Cai completed, the time to reach Sapa by car is shorter. It takes only 5-6hrs.
You can take a daily limousine bus start at 7am, 1pm or sleeping bus at 21pm from bus office near Old Quater or My Dinh station.
You can buy the bus tickets at your hotel, travel agency or bus office. Some good bus brand for tourists such as Eco Sapa limousine, Interbusline, Ha Son- Hai Van, Fansipan express bus, Dragon Sapa…
The only problem with sleeping night bus is arriving time. It arrives Sapa early ( 3-4am), so you can continue sleeping on the bus until 5am and move to your travel office or hotel.
From Hanoi to Sapa by motorbike
There are many backpackers chosing travel to Sapa by motorbike. Sapa is one of the destination in their Vietnam motorbike trip. However, the distance is over 300km and the normal motorbike speed in Vietnam is 50km/hour, so you should stop some where in the middle way from Hanoi to Sapa.
Some options as below:
Stop 1 night at Yen Bai city ( half way – 180km far from Hanoi)
You can stay at Zoni house – Yen bai homestay. It's near countryside of Yen Bai city but very convenient to go to the center. Their homestay serves mostly for backpackers everything is suitable. They have a dorm room and a private room with comfortable beds, air-condition, fan, hot water, clean and tasty food. In front of their house is a beautiful small lake. The owner can speak English so you can easily talking.
You can book directly via booking.com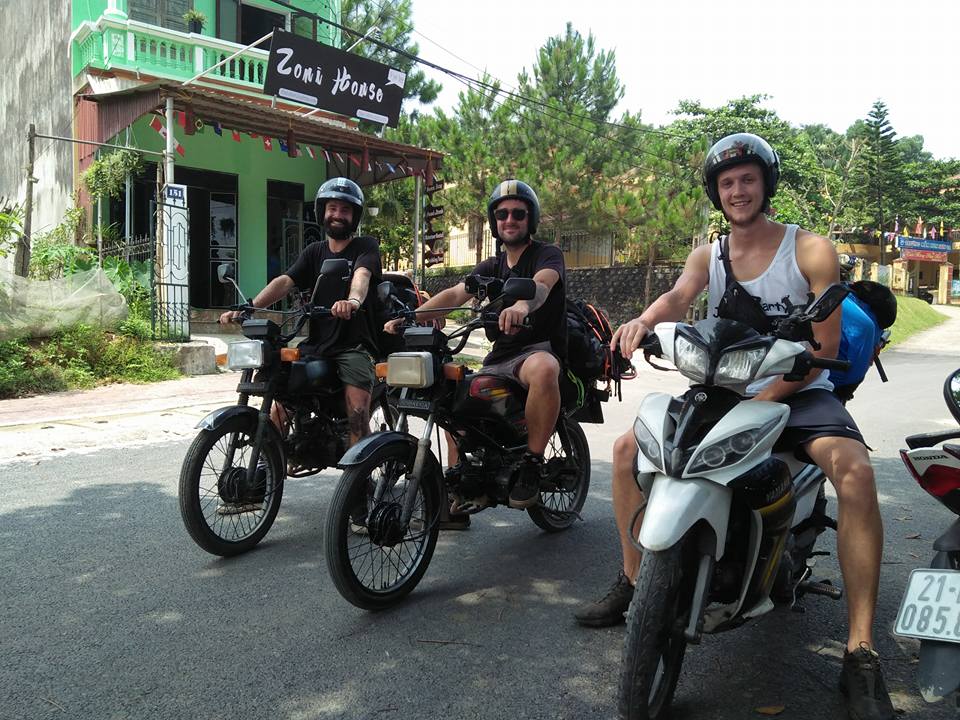 http://www.booking.com/Share-tQ4zcd
Stop 1 night at Vu Linh village or Luc Yen 
Homestay in Vu Linh near the Thac Ba lake, it's village of Dao people. If you stay one night here, you will stay in a stilt house, swiming or explore the local life.
Where to sleep in Sapa?
Sapa is a famous tourism destination in Vietnam, and is investing so much. So there are many different types of accommodation for many requires.
Hotel 4-5 stars like: Amazing Sapa, Pao's Sapa, Victoria Sapa, Sun plaza, Silk Path…
Luxury resorts: Topas Ecolodge, Sapa Jade Hills…
Lodge or homestays: hundreds of lodge and homestays are from Sapa town to the villages.
If you want to experience as relax or experience the real local life, let send your clearly enquiry to our travel consultant, with the many experience years, we will have the good suggestions with better price for you.
Top things to do in Sapa
For longer treks with overnight stays in villages, it's important to find someone who knows the terrain and culture and speak your language. We recommend using minority guides, as this offers them a means of making a living. The travel agency also can help you to arrange a trekking/hiking trip to the village.You will have chance to enjoy the beautiful rice terraces fields & experience the local life and their culture.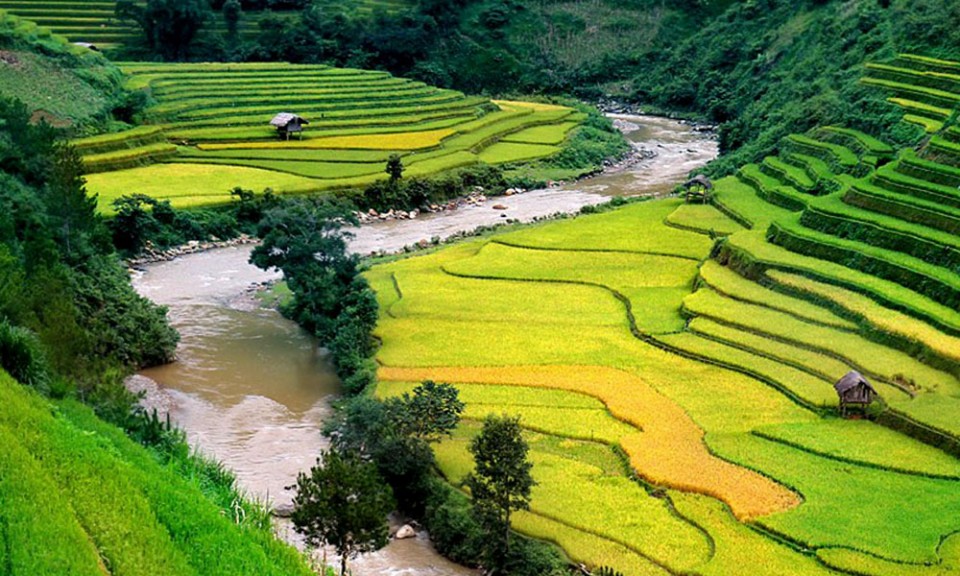 You will also be able to meet several different minorities, which cannot be found in other areas of Sapa, such as Black Hmong, Giay in Muong Hoa valley, Tay, Dao and Xa Pho... Both valleys are beautiful with mountainous surrounding and rice paddy terraces.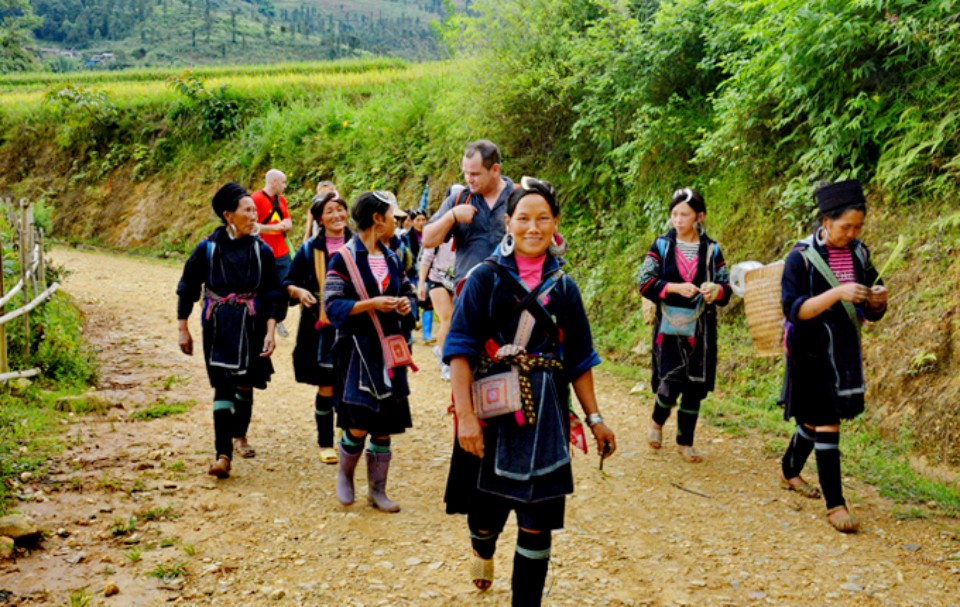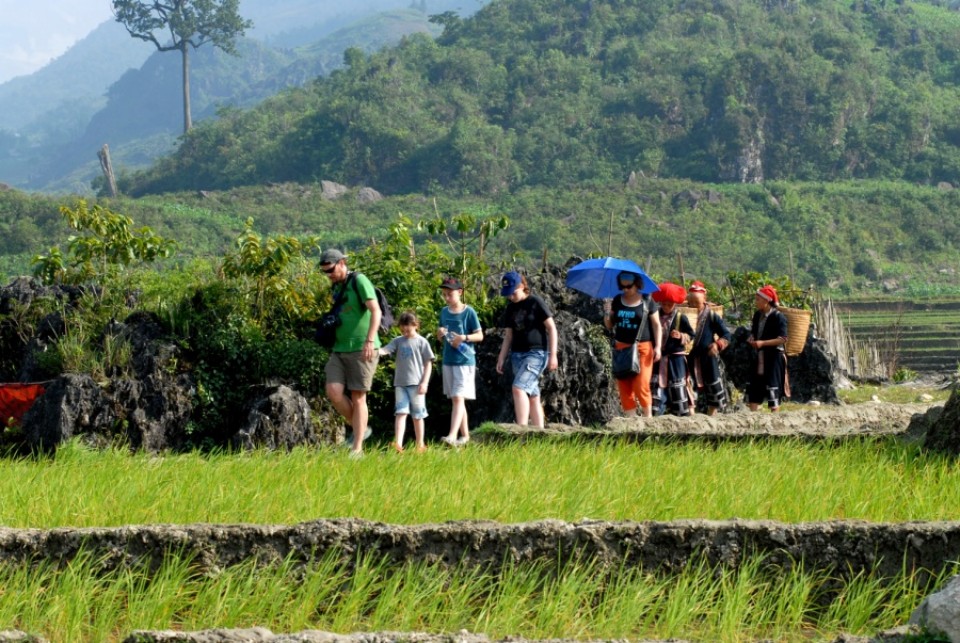 Surrounding Sapa are the Hoang Lien Mountains, dubbed the Tonkinese Alps by the French. There mountains include the often cloud-obscured Fansipan (3143m), Vietnam's highest peak. Fansipan is accessible year-round to sensibly equipped trekkers in good shape, but don't underestimate the challenge. It is very wet, and can be perilously slippery and generally cold.
The summit of Fansipan is 19km by foot from Sapa. The terrain is rough and adverse weather is frequent. The round trip usually takes three days; some experienced hikers do it in two day, but you'll need to be fit. After walking through hill-tribe villages on the first morning, it's just forest, mountain vistas and occasional wildlife, including monkeys, mountain goats and birds. Weather-wise the best time is from mid-December, and in March, when wildflowers are in bloom. Don't attempt an ascent if Sapa's weather is poor, as limited visibility on Fansipan can be treacherous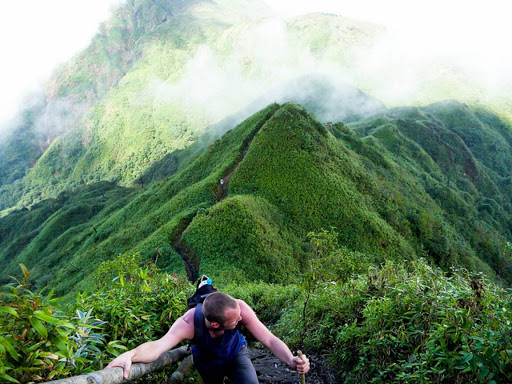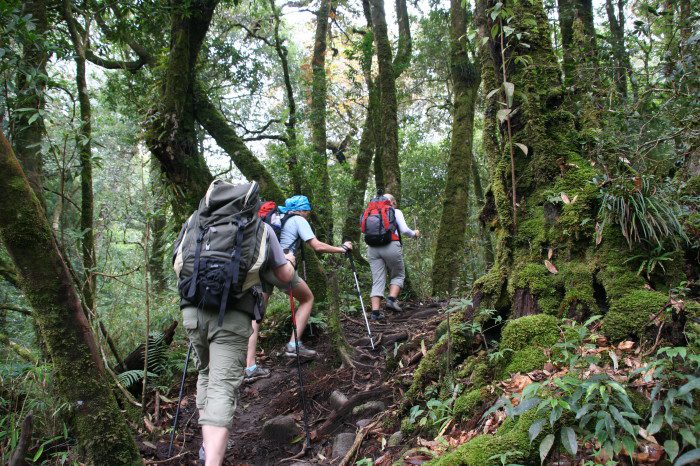 Travel by Cable car to Fansipan
If you can't trekking or you are a bit (or a lot) exhausted after trekking up to Mt Fansipan, taking the cable car is a good idea to see the Fansipan panorama view from above.
The ticket is 700,000vnd/person. You can catch a train from Sapa station town or taxi to the cable car station. Then you will take the cable car to a station near the peak. From there, you can trek up stone stair or take another train to the top.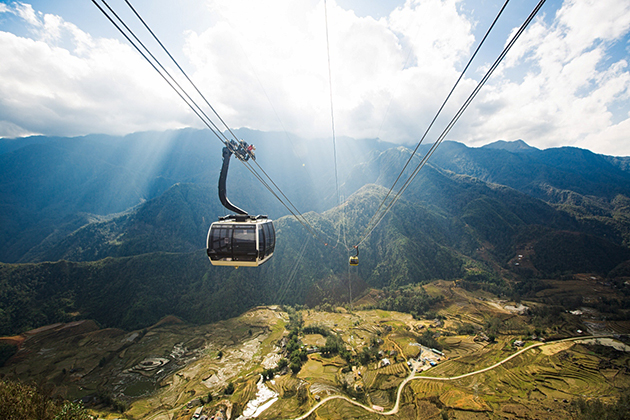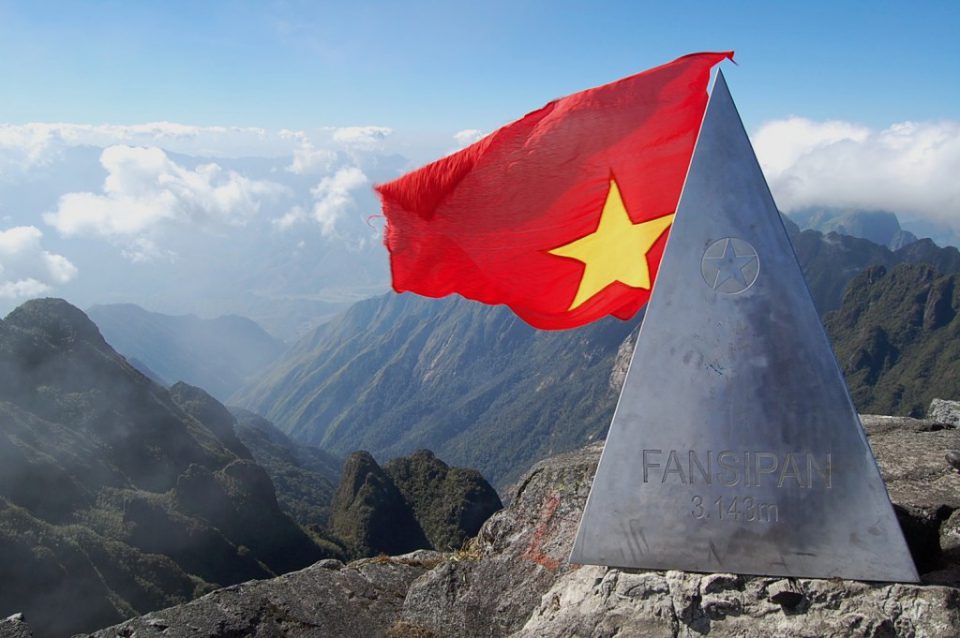 Riding motorbike to O Quy Ho pass and enjoy Cloud sea on the Heaven Gate
The road between Sapa and Lai Chau crosses the O Quy Ho Pass on the northern side of Fansipan, 15km from Sapa. At 1900m this is Vietnam's highest mountain pass, and acts as a dividing line between two weather fronts. The lookout points here have fantastic views. Most people also stop at 100m-high Thac Bac (Silver waterfall), 12km from Sapa.
On the Sapa side, it's often cold and foggy, but drops a few hundred metres onto the Lai Chau side, and it can be sunny and warm. Surprisingly, Sapa is the coldest place in Vietnam, but Lai Chau can be one of the warmest.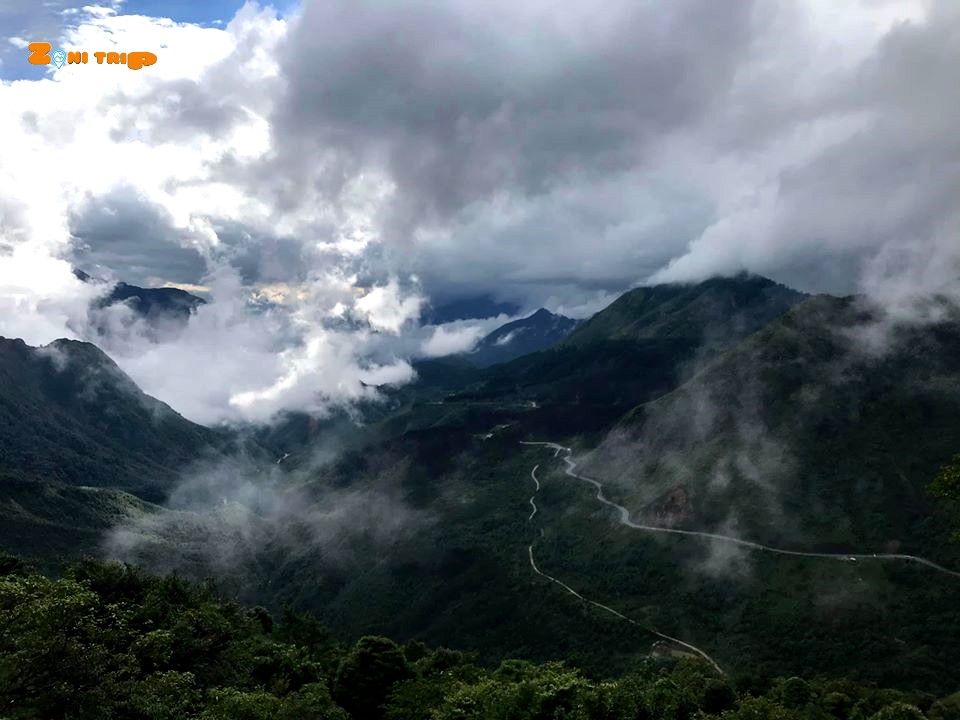 Some recommend itinerary to travel Sapa:
With 2-day Trekking Fansipan offers all of the challenges and rewards of any hike. It's a must climb if you are the type of person that likes to see the beautiful and different landscape along hiking trails.
After 2 challenges with mt Fansipan, you will have 1 extra day to explore around Sapa village – which is well-known with fantastic rice terraces as well as the local life of different ethnic groups in the rural tribe.
Hiking difficulty: Moderate (3/5) with challenging terrains such as rock climbing, ladder, rock cliff, jungle, stream, local rice fields path…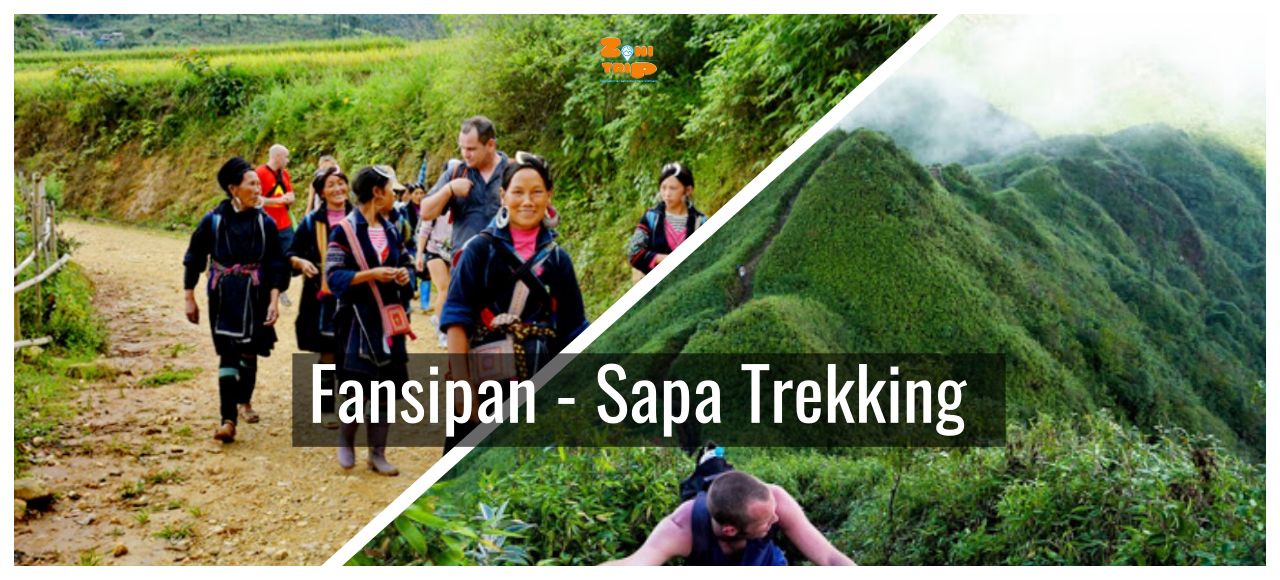 If you like photography, nature and people's culture, mix with a little challenging via hiking local trails,  this Sapa Hiking tour 3 days tour is designed for you.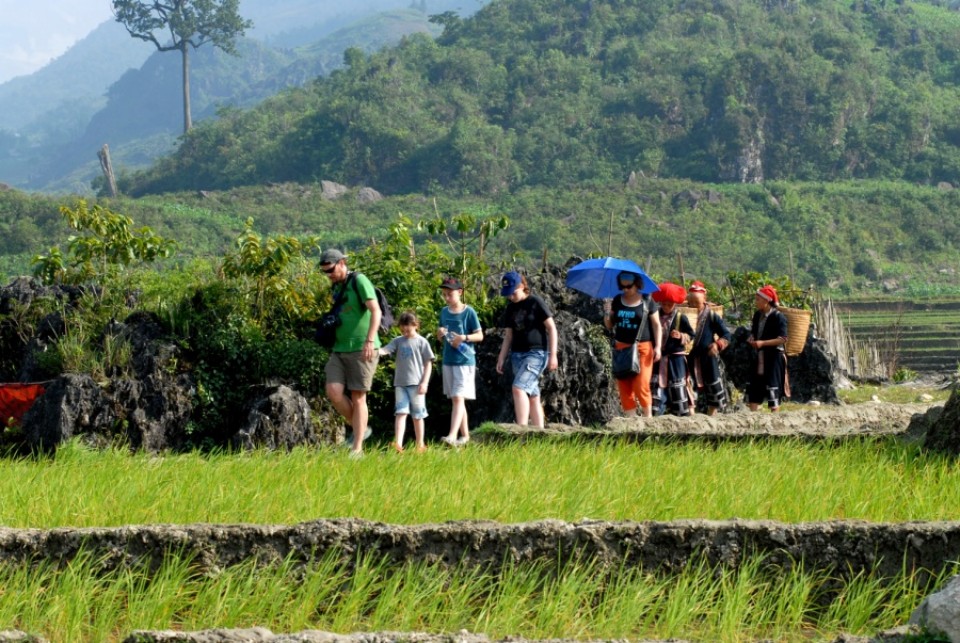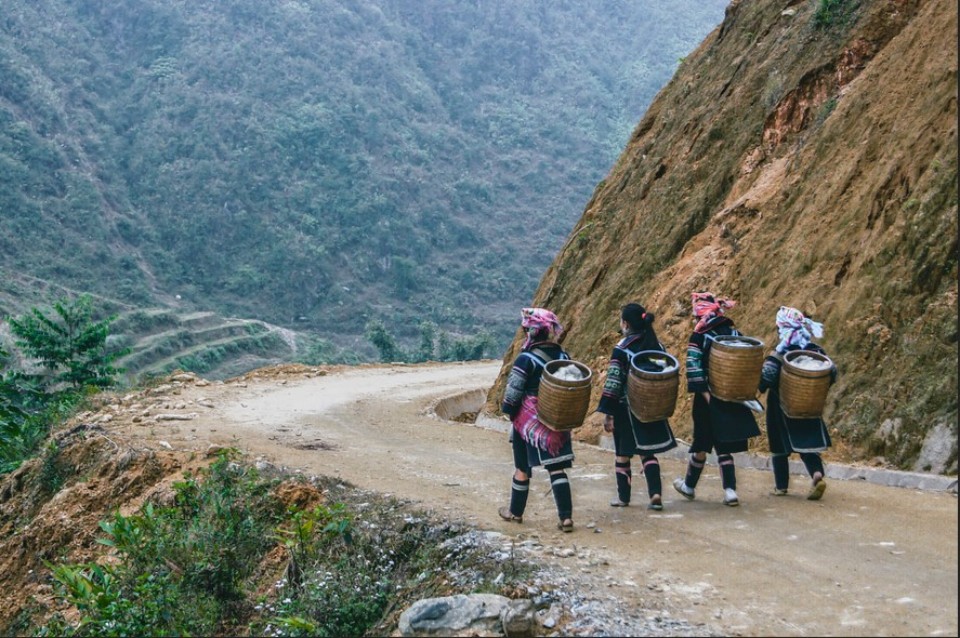 Sapa and Mu Cang Chai are located in far Northwest Vietnam. They're well-known as the best beautiful Rice Terrace in Vietnam & in the world, but it's still keep unchanged charm since many generations. If you like photography, nature and people's culture, mix with a little challenging via hiking local trails,  this Sapa- Mu Cang Chai Hiking tour 5 days tour is designed for you.
You have an opportunity to explore one of the most beautiful parts in the Sapa and Mu Cang Chai, the beautiful stream, majestic mountain landscape and breathtaking rice terraces fields. You will sleep in the homestay of tribal minority, to experience the local life and their culture.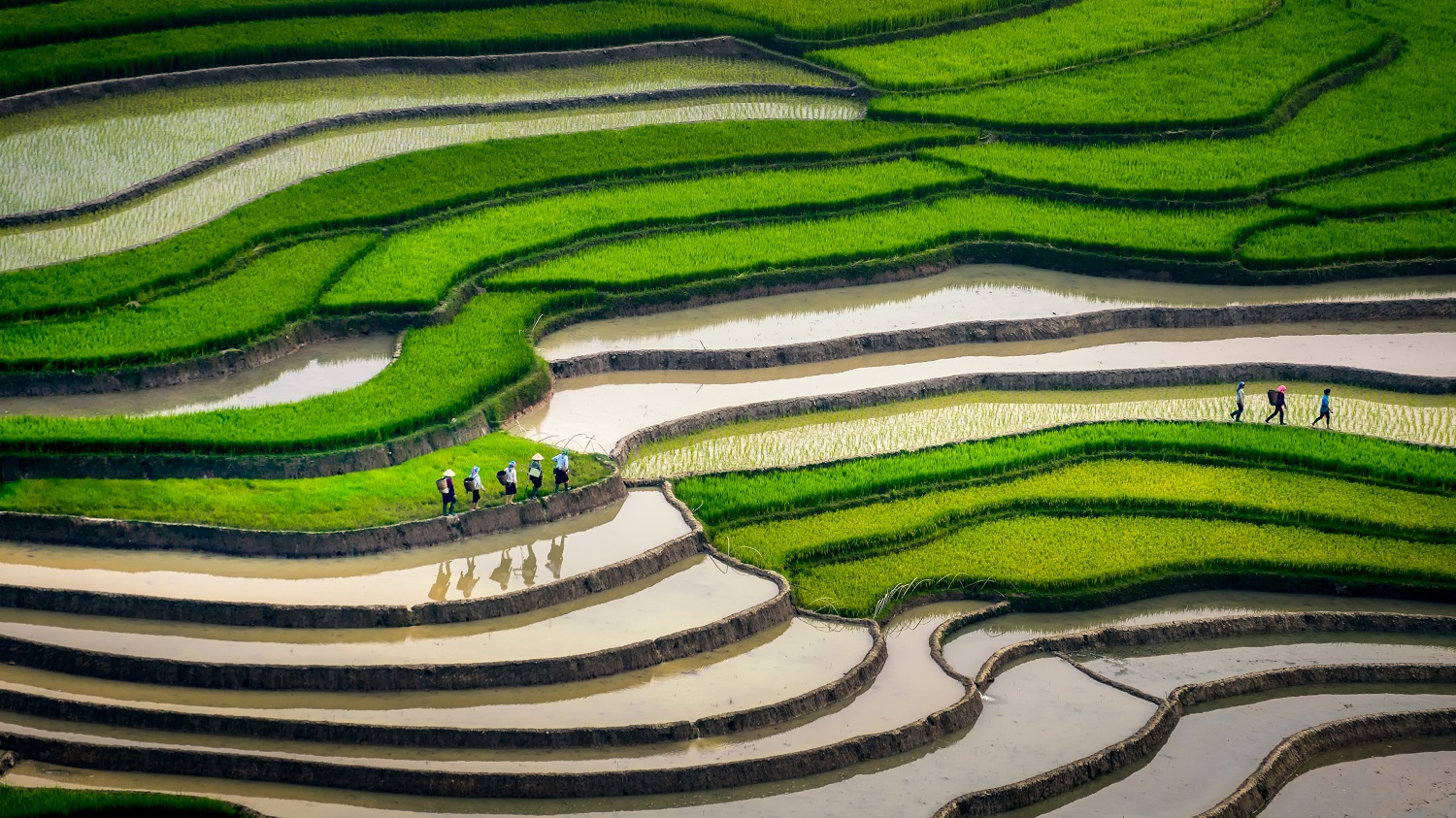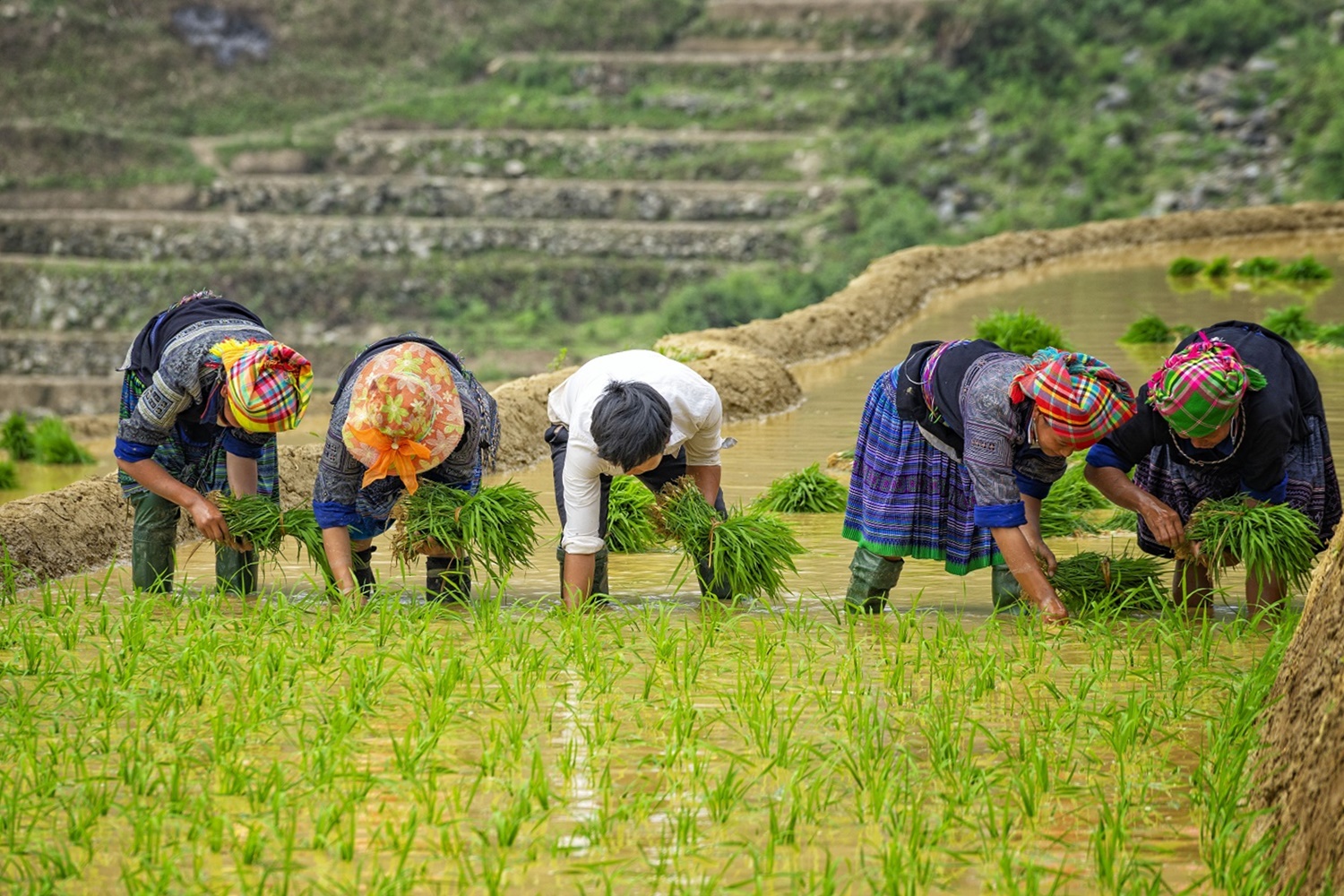 Bac Ha Market is also well known as one of the liveliest local markets in the Sapa area.
If you like photography, nature and people's culture, mix with a little challenging via hiking local trails,  this Sapa – Bac Ha Market Hiking tour 3 days tour is designed for you.