Mu Cang Chai is a mountainous district of Yen Bai province, is about 280km from Hanoi, and is known with scenic rice terraces. Each harvest season, it welcomes thousands of visitors from around the country & is the new attractive destination for international travelers. If you visit to North Vietnam, don't miss this land, Zonitrip advise you to backpack up and hit the road right then, you will not be regret.
What's special of Mu Cang Chai?
If you want to discover the mountainous beauty, the stunning Rice Terraces, as well as the local life of different ethnic groups in the rural tribe: Mu Cang Chai – where the charming essence of these lands remains unchanged. When Sapa is become commercial with full of tourists, Mu Cang Chai is a new hidden land with original natural beauty of both landscape and people.
When is the best time to travel Mu Cang Chai?
There is only one crop per year and it starts from June to October. It has 2 pretty nice seasons which you can arrange to come.
Around mid-September to mid-October is the season of grain, all of rice terraces throughout Mu Cang Chai will be covered by bright yellow, the weather is nice and convenient to visit.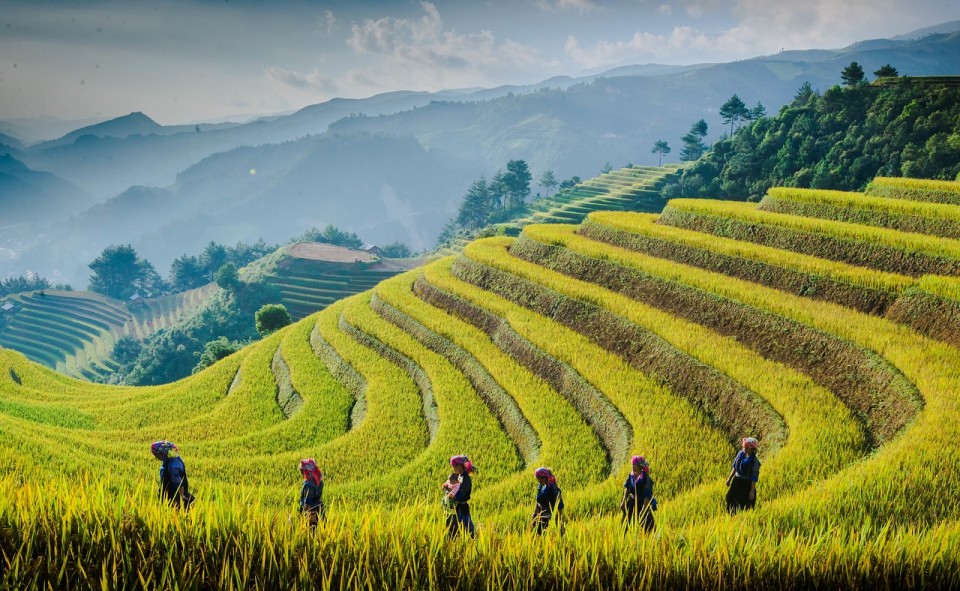 Around May-June is the pouring season, when summer rains began pouring down the mountain, the water is led from the mountains into terraces. Water flooded into the fields to make arid become softer and swells to grow rice. This is also the time people go to the field to crops and prepare for a new season.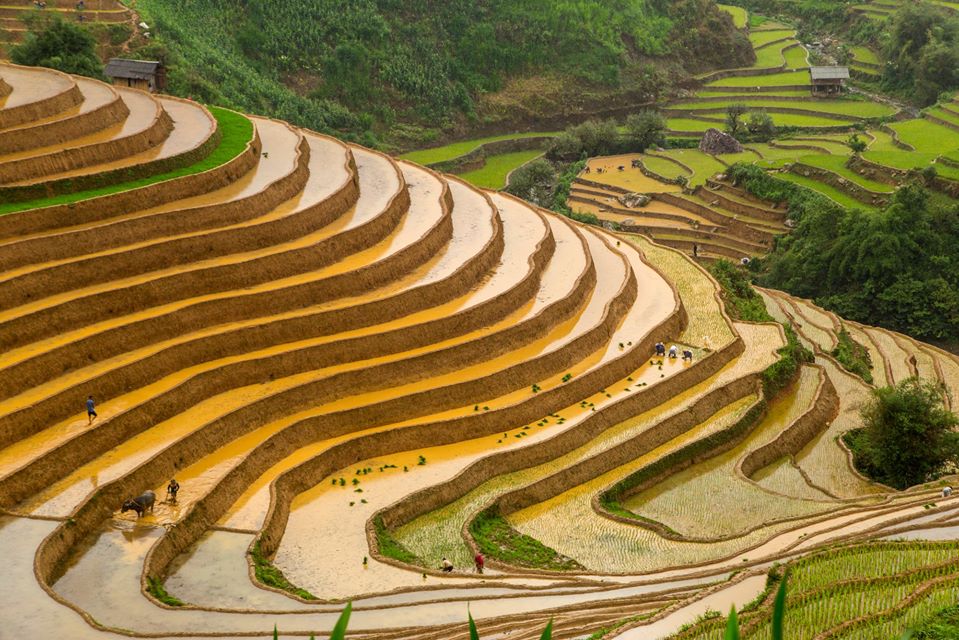 From June to August, it's the middle crop season, you will see the green rice fields covers all the mountains . If you are travelling Vietnam this period, don't forget to list Mu Cang Chai on your travel lists.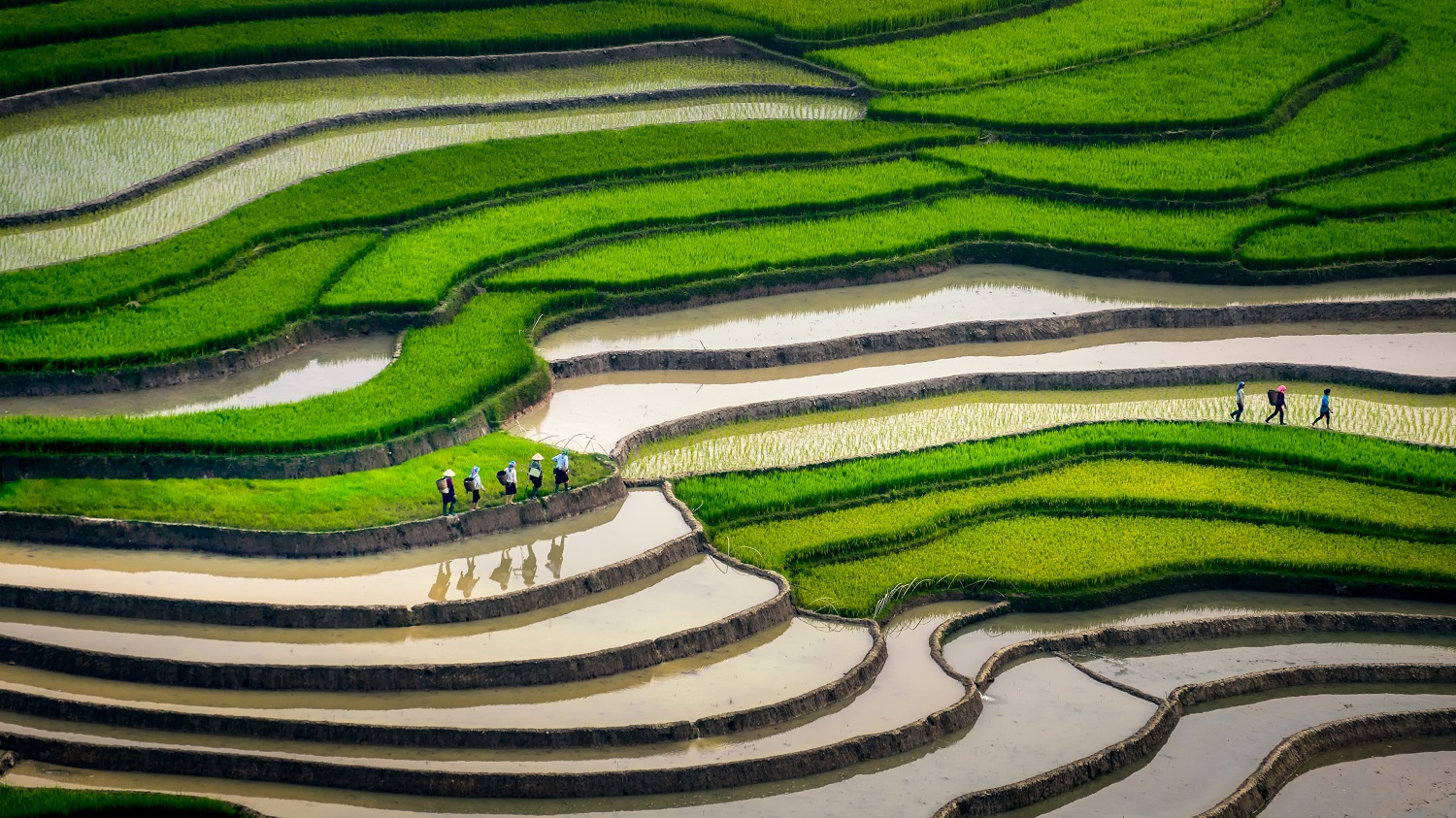 How to get there?
Mu Cang Chai is less famous and poorer than Sapa or other places in North Vietnam because it's not too easy to reach there.
There are 3 ways you can choose:
1-By motorbike or car
From Hanoi, you can go straight to Mu Cang Chai by motorcycle or car. You can follow the road 32 from Son Tay- Trung Ha – Thanh Son – Thu Cuc- Nghia Lo
The distance is around 300km, so the car can go directly in one day, but if you travel by motorbike, you should spend 2 days. ( You can stop at Yen Bai city or Nghia Lo town).
If you have your own car, it's convenient. If you don't have, you can hire or book a package tour from a travel agency.
2- Catch the bus:
There is only 1 direct bus Hanoi – Mu Cang Chai: ( Thao Nguyen bus), departure from 10am- arrive 6pm, and return at 22pm.
You can also catch buses under Hanoi – Than Uyen to pass Mu Cang Chai.
However, places are scattered in various communes and villages, motorcyclists will help you be more active.
3- Combine bus & motorbike:
Because there aren't many bus go straight to Mu Cang Chai, and the bus service isn't good so much, so you can catch the bus to Yen Bai city, then rent the motorbike from there. Because Yen Bai city is a convenient place so there are many buses start from My Dinh station, Hanoi within 2.5hrs running.
When arriving Yen Bai city, you can contact Zonitrip or Zonihouse/rental motorbike in Yen Bai. Ms. Nghia +84 368 992 7861
Where to stay in Mu Cang Chai?
Tourism in Mu Cang Chai undeveloped so the accommodation establishments primarily as hostel and homestay. You can stay in the town of Tu Le, Nghia Lo or Mu Cang Chai. With the peak season, prices may stay in the range of 300000-400000 dong a room. If selected homestay, price for a contract is 60000-100000.
Zonitrip often arrange to stay at homestay of Thai people in village and Nghia Lo or Tu Le village. It was really unique and unforgettable experience. I truly enjoyed having local foods,local alcoholic drinks and taking stunning photos. The ethnic families we stayed with were beyond welcoming, and they know where to go to get a taste of authentic.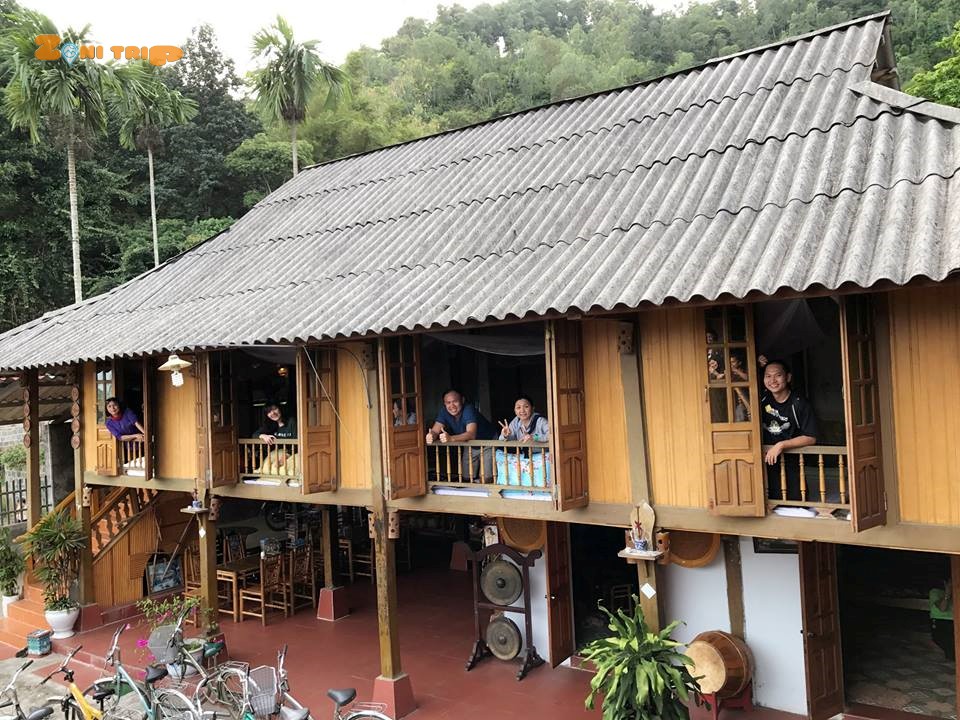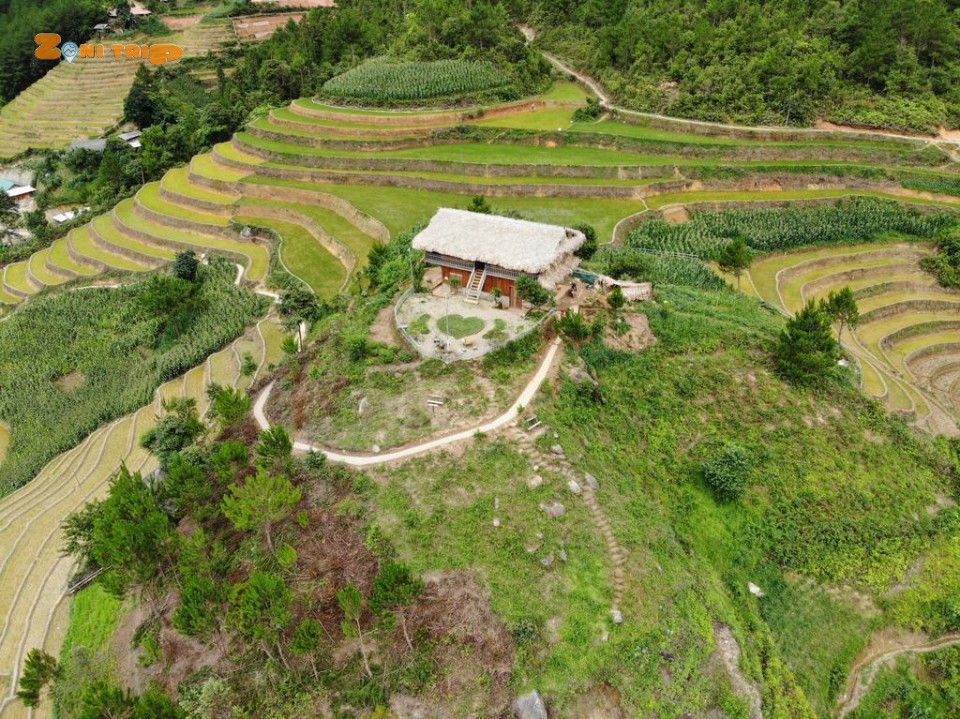 Which point must to see?
Tu le field
Tu Le is the home land of Thai people. When visiting Tu Le, you will see the elegant girls and ladies with long black skirt working on the fields or carry the bags. Tu Le is well-know with green sticky rice, the beautiful stream, the peaceful villages with stilt houses. If you travel in early of September, don't forget to try the green sticky rice in Tu Le, which is made by traditional way of Thai people.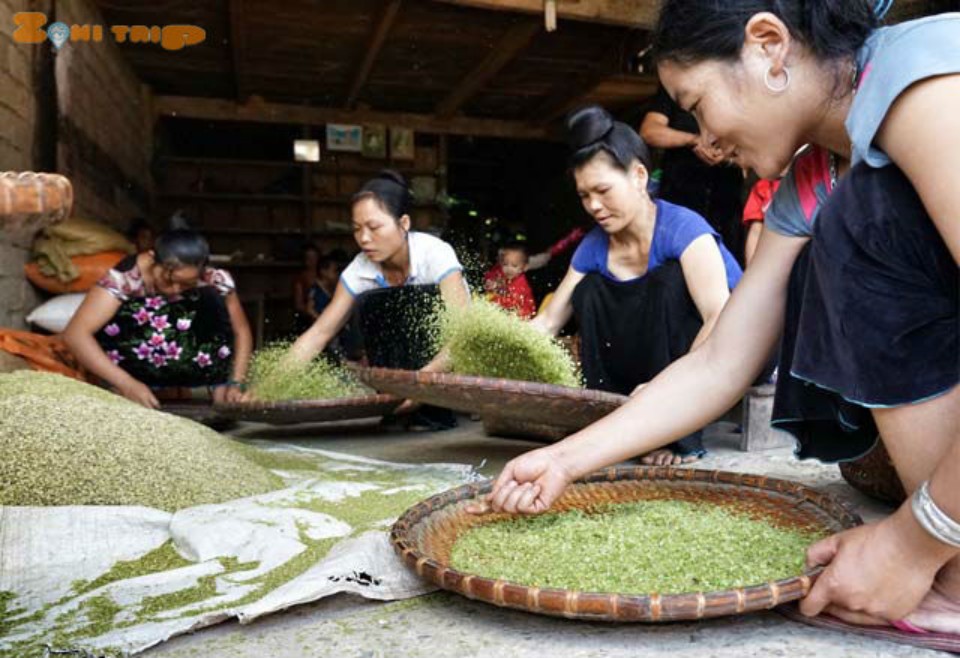 Khau Pha Pass
As one of the lines winding and steep gorge ranks among the best Vietnam, Khau Pha pass is in the highest mountain in Mu Cang Chai area. It's one of the four greatest passes in Northern Vietnam, connecting Tu Le and Mu Cang Chai. These scenic roads offer a lot of stops for picture-taking as it is the viewpoint to see the Lim Mong, Lim Thai village or paragliding-point on the top of this pass.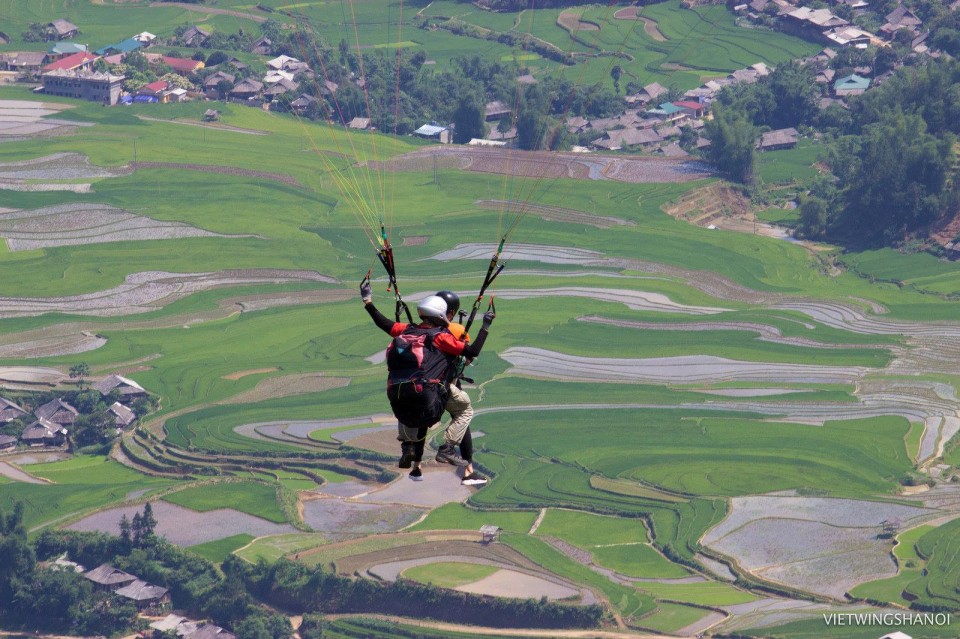 Cao Pha valley
It's localted on the bottom of Khau Pha pass, where are attractived by amazing rice fields and surrounded by huge mountains. This is highlight spot of every photographers or travelers. You will have to say "wow" before the beauty of rice fields like a painting, which was created by human.
Cao Pha valley and KHau Pha pass are the place to held Paragliding festival in May and September every year.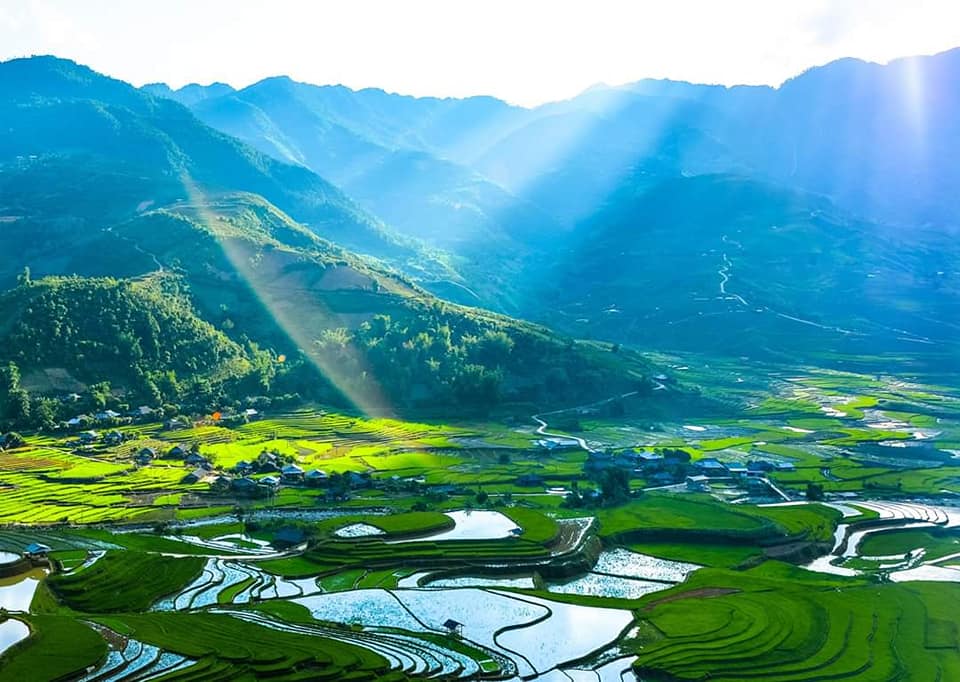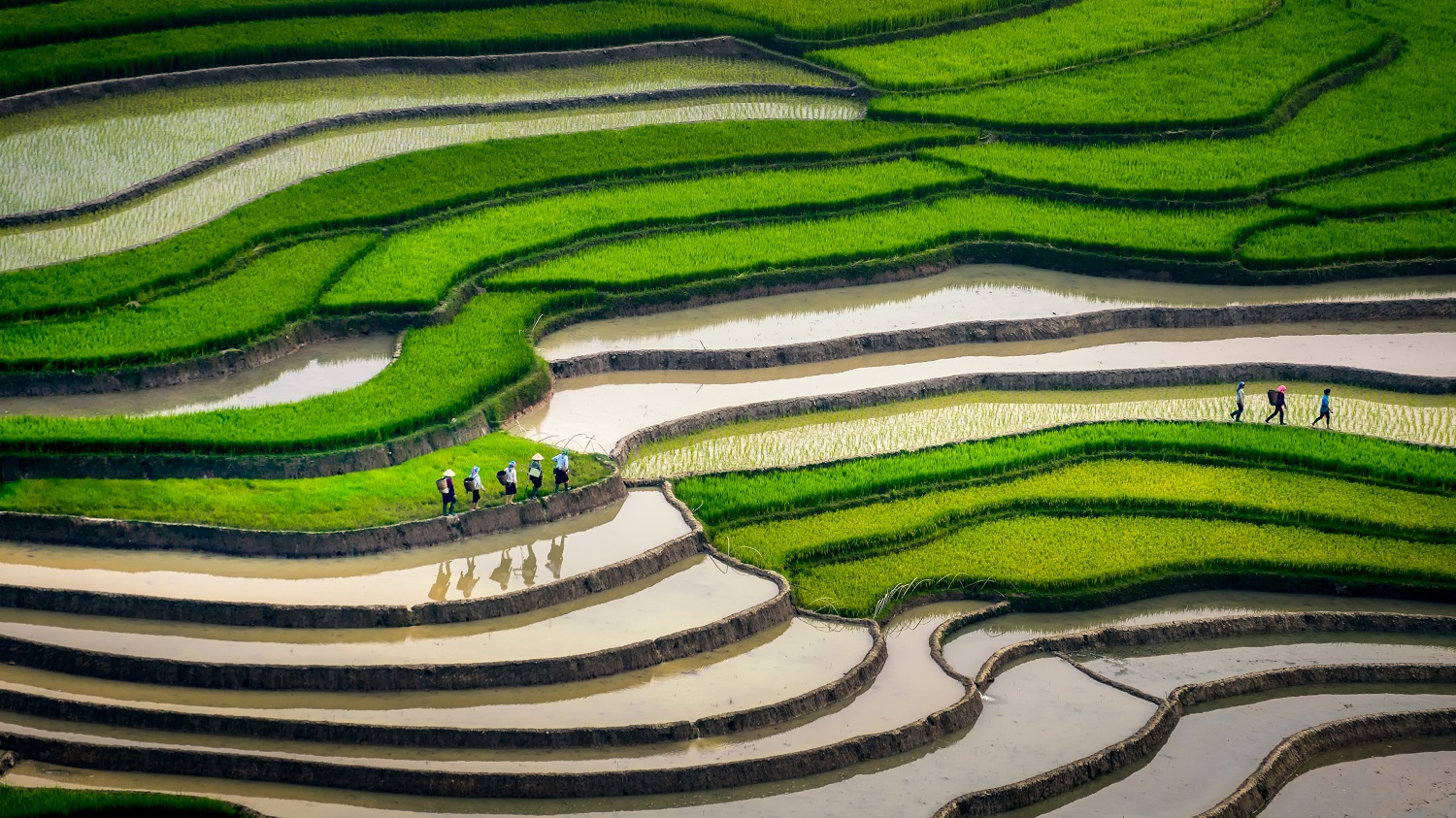 Terraced fields in La Pan Tan, Rasbery Hill, Che Cu Nha village, Sang Nhu, Lao Chai
Famous for its beautiful and large terraced fields, La Pan Tan and Che Cu Nha village are the must place to visit in Mu Cang Chai. Rice Terraces are art architecture epitomized creation of the Mong ethnic people living on this land through generations. the travelers and photographers are interested in rice terraces because they often have the mountain shape, some time they have special shape like Horse shoes ( in Sang Nhu) or Shoes shape, rasbery hill ( with round field on the top, etc)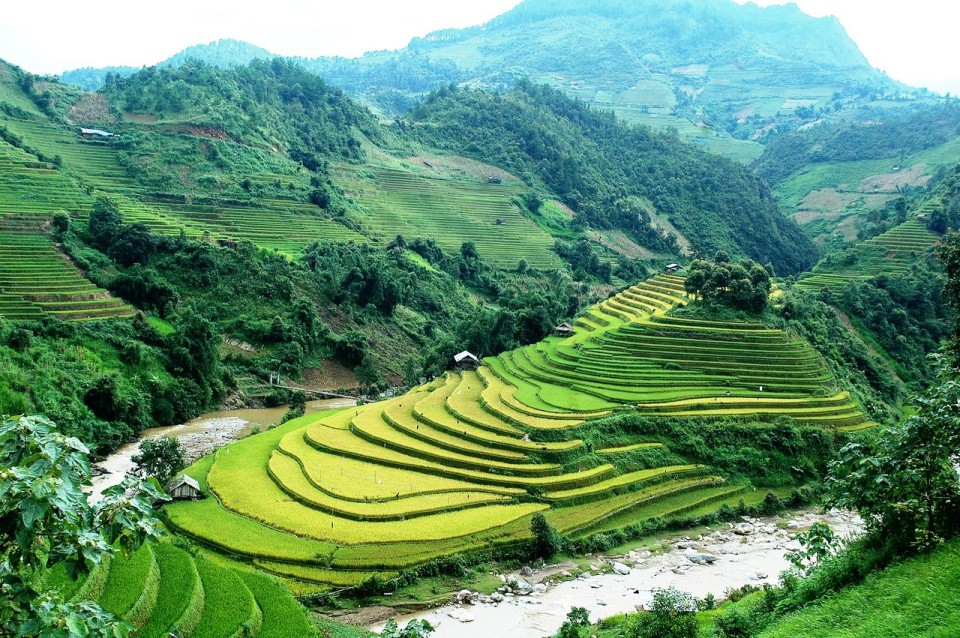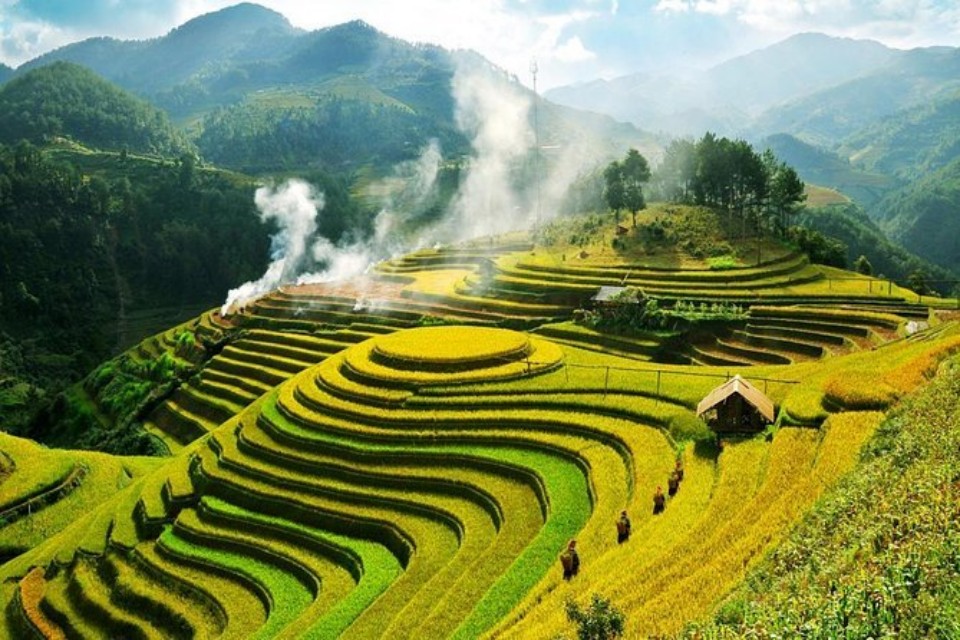 In addition, 90% of population in here is Hmong people. They are very hardworking, creative and honest people. They are one of the ethnic group in Vietnam still keep the original culture and custom such as traditional clothes, architecture, religion and custom.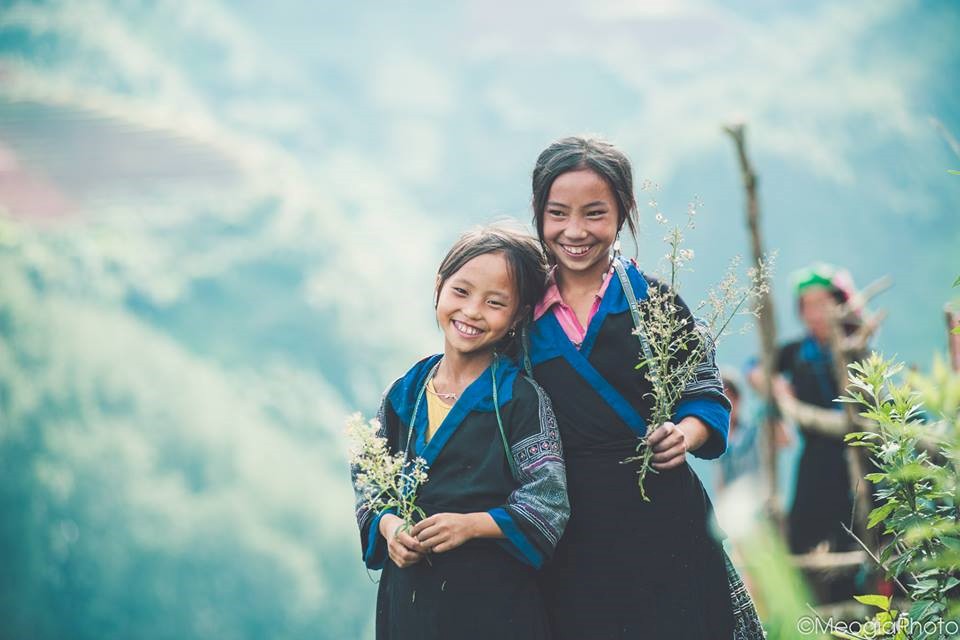 Beside of enjoying the scenery, don't forget to explore the local culture and chat with people. Also, stay away from villages, you should also bring candy or notebook, pen, small toys to donate ethnic children. It's interesting experience.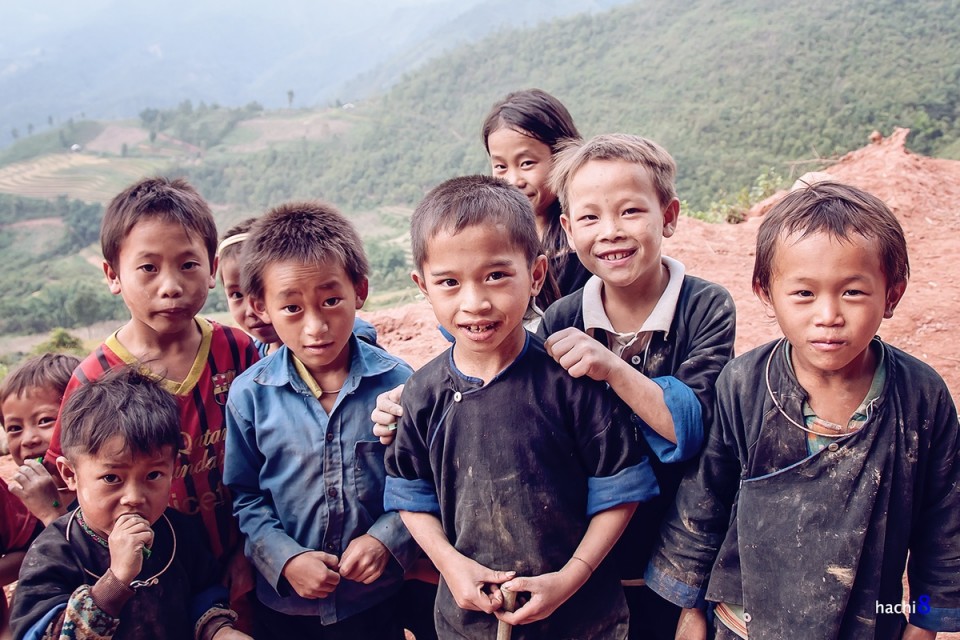 What to eat?
You can enjoy the typical dishes of the ethnic Hmong, Thai, such as five-color sticky, black earth cake, grilled fish pa pinh top, cake, grilled chicken with honey or buffalo meat infected leaf kitchen upstairs. These are all traditional dishes of local ethnic minorities.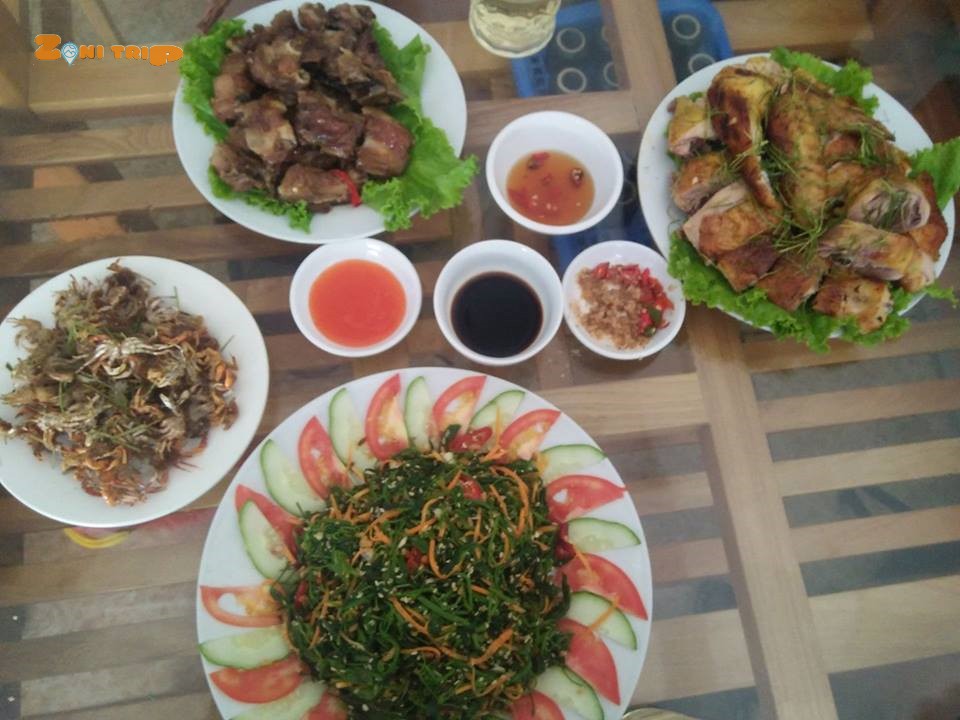 Zonitrip – The specialist for Mu Cang Chai tour with various different programs: Motorbike tour,  Trekking/Hiking  tour…….
If you like this blog, let share & leave your comment to support us!
Thank you!