Ha Giang Attractions
Coming to Ha Giang, you will be immersed in the wonderful natural scenery, experience the unique culture of the highlands and breathtaking roads..
Ha Giang is the first territory of the country, one of the poorest mountainous provinces in Vietnam. But in return, this is the province with the greatest tourism potential, when nature gave this land a special geological structure.
By possessing Dong Van Plateau that recognized as Global Geopark by UNESCO and spread over 4 districts of Quan Ba, Yen Minh, Dong Van, and Meo Vac. Ha Giang annually welcomes thousands of domestic and international visitors. Ha Giang tourist season lasts throughout the year. You can come there any time because each season Ha Giang has a separate beauty.
Zonitrip would like to introduce you to some destinations which you shouldn't miss when visiting Ha Giang.
1. Quan Ba – Heaven gate- first attraction
Quan Ba ​​mountain is located on the National Highway 4C in Quan Ba ​​district and far from Ha Giang town about 40km. It's an attractive destination in Ha Giang tourism. These are two mountains that look like a bread of a beautiful woman. Visitors have the opportunity to see the "artwork" of creativity. In the middle of the mountain rocks and terraced fields, two mountains emerged weirdly so that visitors are surprised by the beauty of nature. Two mountains associated with the poetic legend of "Fairy Mountain".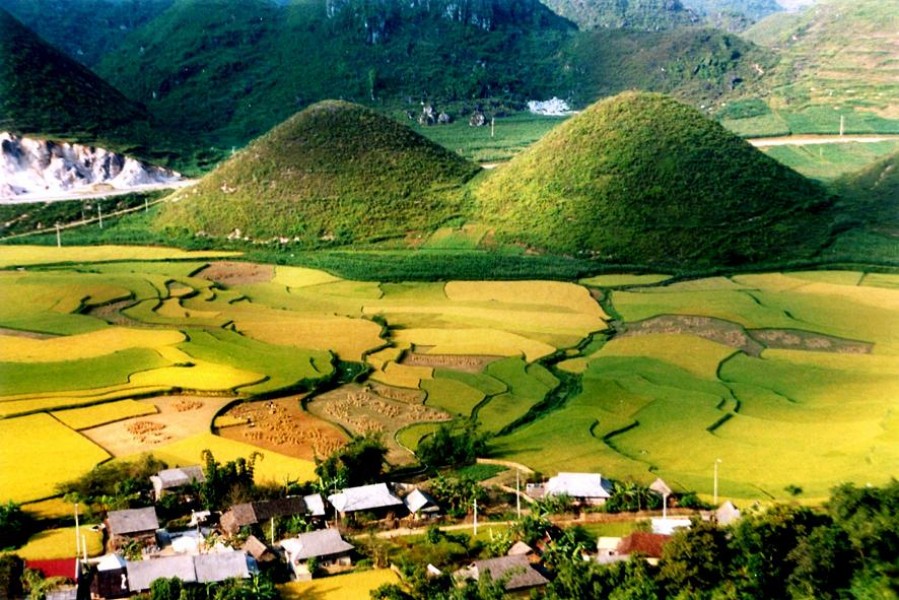 (Anh Quan Ba – Ha Giang
Once upon a time, there was a handsome H'Mong boy who had the talent of the trumpet by his lips. His tongue was like the sound of a stream, the sound of birds. There is a fairy in the sky named a beautiful flower with gorgeous beauty.
One day, she heard the sound of his lips then escaped to the Earth to find the man and stayed there. They have got married and had a pretty baby boy. But Emperor detected that she had escaped to the Earth and he felt very angry to send people to take her back. She begged for staying to take care of her baby but no one relented. So she has left her nipple for her son. Thanks to her nipple, the boy grew every day and then two nipples became to the double mountain. Thanks to the flow of her milk, this land has a very cool climate, delicious fruits, green vegetables, and luxuriant crops.
With beautiful terrain and fresh weather of highland, Quan Ba is becoming an attractive place you shouldn't miss when visiting Ha Giang.
2. Dong Van Ancient Town
Dong Van Ancient Town is located in the Ha Giang tourism complex, was established and built in the early 20th century. At first, there were only a few Tay, Chinese and H'Mong families. In the 40s and 50s, Kinh & Dao and Nung people came to live. Today, Dong Van Ancient Town is a special place for tourists to visit Ha Giang.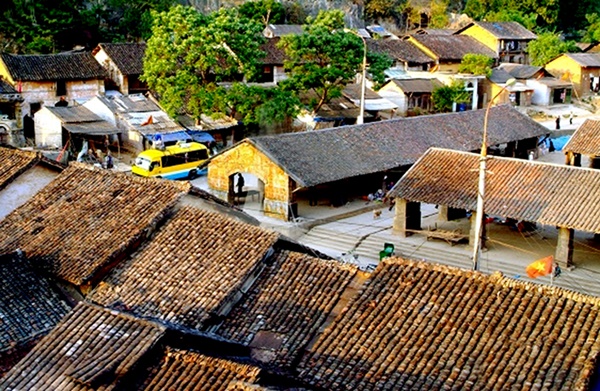 Dong Van Ancient Town has about 40 old houses under 100 years old. The large stone columns are quite fancy, solid with a U-shaped structure to create a large market area. On the weekends, the space in the market is more bustling with folk songs, the dance of the men and women from the villages.
In the evening, most of the houses in the old town are hung with red lanterns and displayed traditional products such as brocade. They perform the show, sell and enjoy the "Thang Co", drink corn wine, and talk. These unique activities have created an additional highlight for Dong Van Ancient Town.
Dong Van market is not only a place for trade of ethnic minority people in the region but also a festival venue. From young H'Mong women to Pu Peo & Lo Lo people in traditional costumes go to the market to play, make friends, shop, and exchange goods. The harmony of Vietnamese-Chinese architecture was built in the period from 1925 to 1928, Dong Van market is a beauty and impression in the heart of the plateau.
Now, with the development of tourism, the Old Market was moved behind the town, and instead of the coffee shops which are designed as traditional architecture. After the long day of traveling, you can walk around the night street, relax and enjoy the atmosphere of the Old quarter in the far North area.
Meo Vac market is located in a valley surrounded by mountains for hundreds of years. The markets open every Sunday, is the convergence of cultural quintessence of the ethnic minorities in the stone plateau of Ha Giang. Meo Vac market contains unique features is different from any market, it attracts hundreds of domestic and foreign visitors. This is a unique attraction that can't miss when traveling Ha Giang.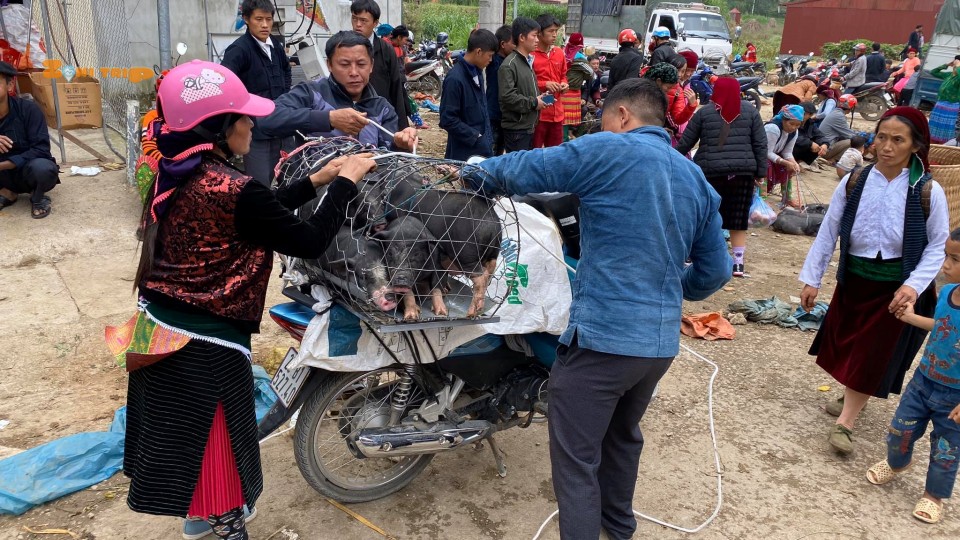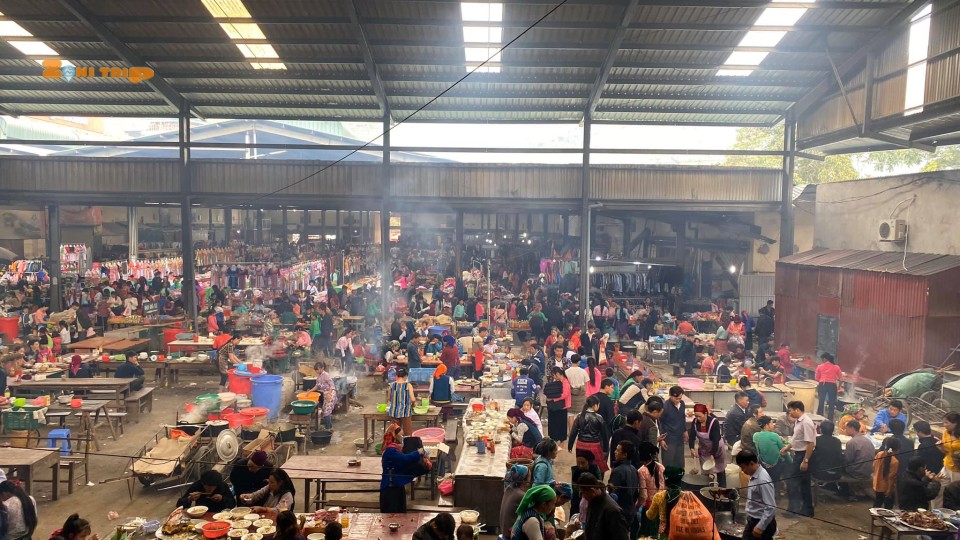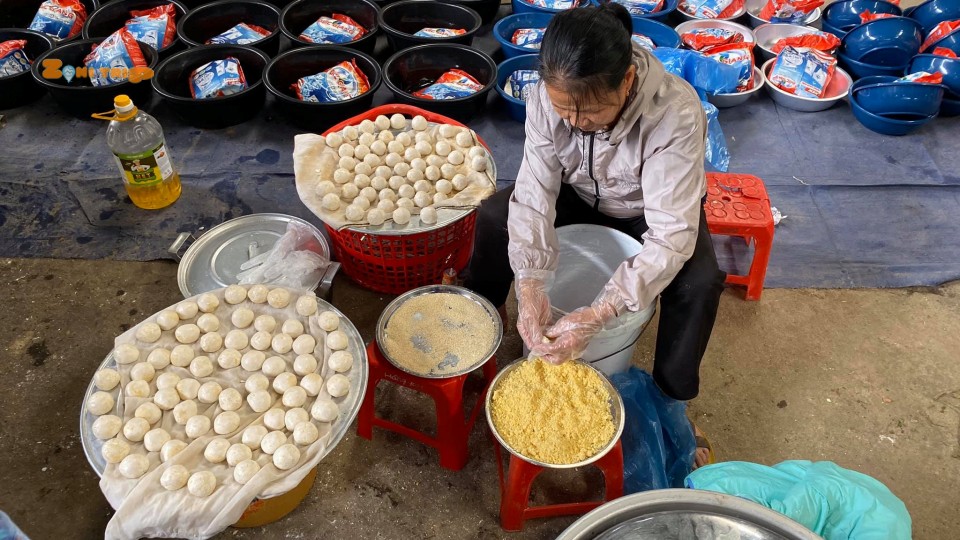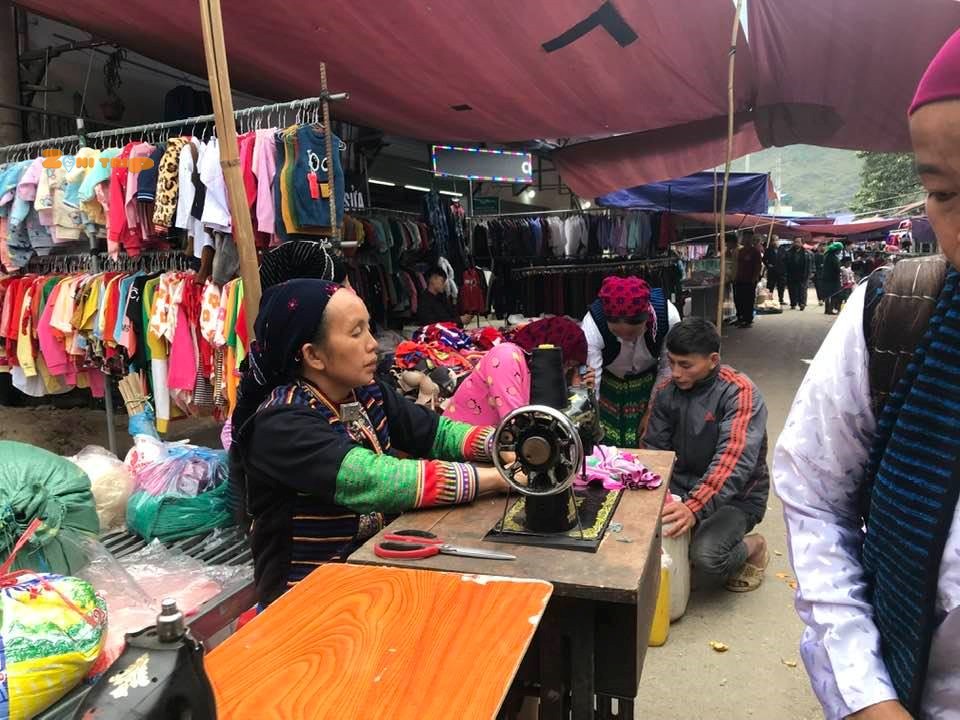 People come to the Meo Vac market not only to buy and exchange goods but also to meet friends. Meo Vac's food market sells very special dishes for indigenous peoples and visitors.
On the market day, every member of the H'Mong family usually goes to the market. Here visitors can buy animals that are barely sold in the lowland like mountain goats and wild pig. The variety of costumes and the food left an impression to each visitor. They bring products such as: buffalos, cows, pigs, chickens, brocade, wine … In addition to the purpose of trading, a market is also a meeting place for people.
See the video about local market in Ha Giang
4.Lung Cu flag pole – the pride of Ha Giang attractions
Lung Cu flag pole is a national flag pole located at Lung Cu peak, also known as Dragon mountain peak. It's a symbol of Northern point in Vietnam, from there, you can see the border and land of China.
It is about 1,700m above sea level, in Lung Cu Commune, Dong Van District, Ha Giang Province. From the top of the flagpole looking down to the ground, there are two lakes on the sides of the mountain that never run out of the water all year. They are called dragon eyes, which is the source of water for two ethnic minority villages to use.
5. Ma Pi Leng Pass – the most breathtaking scenery in Ha Giang
Ma Pi Leng pass connects two districts of Dong Van and Meo Vac with a length of only about 20 km, located on 2,000 meters high above the river.  But Ma Li Leng makes anyone overwhelmed by the magnificence beyond the imagination of humans.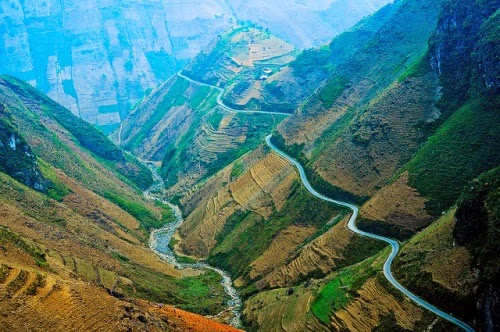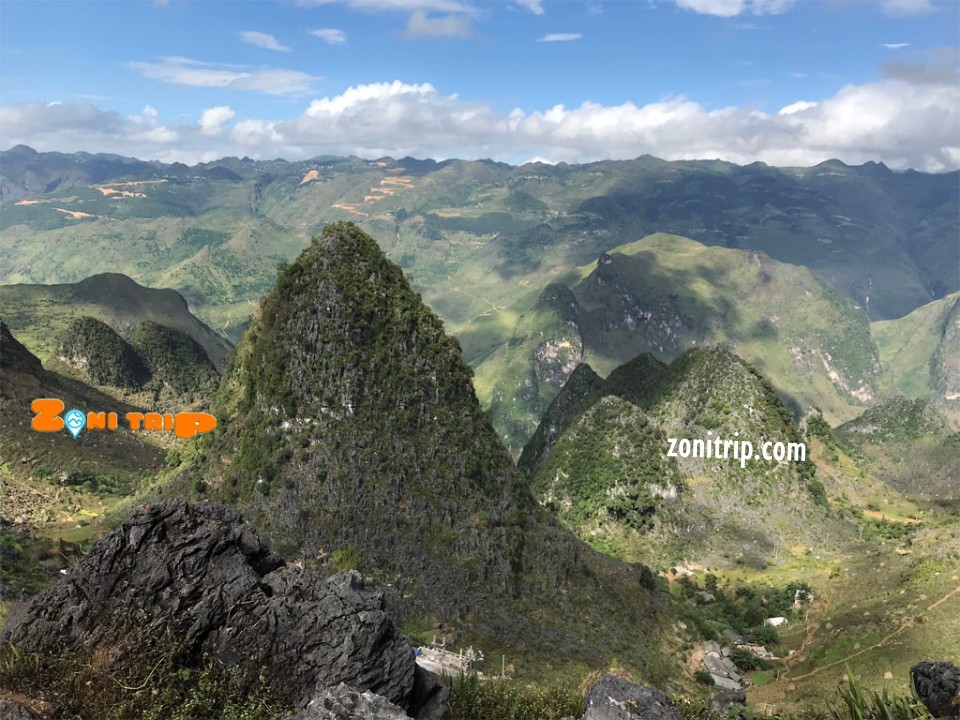 Ma Pi Leng pass – also known as the "Sky path". This rocky path goes through limestone cliffs, goes through Hmong villages in the high mountain, goes through cornfields in the middle of the karst plateau. From above, you can admire the extremely majestic scenery of the limestone mountains and the green Nho Que river which cuts through the valley below.
There are Hiking on Ma Pi Leng pass and some water activities on the Nho Que river such as Kayaking, SUP, Boating & Swimming.
You can refer some program on these programs:
Trekking Ha Giang trip 3 Days 4 nights
Ma Pi Leng is one of the most interesting Ha Giangattractions you have to visit at least once time.
6. The Palace of the Hmong King – the history destination of Ha Giang attractions
History and Architechture
The Hmong King's Palace is located in Xa Phin Commune, Dong Van District, Ha Giang Province, and far from Dong Van District about 24 km. This is a unique and beautiful architecture of this plateau. The entrance to the palace is just sloping, paved with large square stone. The palace is surrounded by two walls built of stone, about 60cm to nearly 1m, 2.5 to 3m high.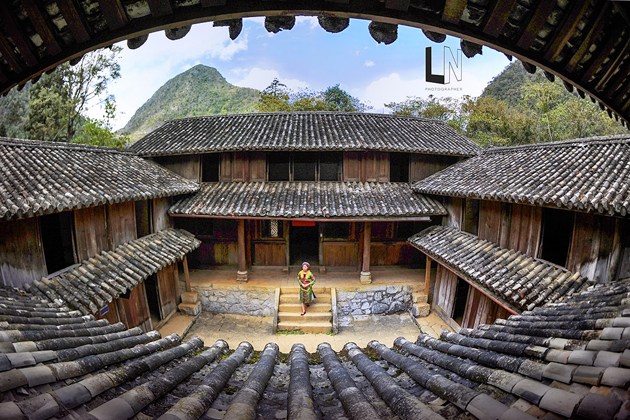 Vuong Palace – Hmong King's House – Ha Giang  attractions, Vietnam
The inner ring is thicker and firmer than the outer ring. Both rounds are arranged in many holes tomorrow. The land between the two walls is about 50m wide, planted. The palace has 10 houses, 6 houses in the same direction, the other four are in the other direction. The main house facing the gate. The houses are made of precious wood from columns, trusses, floors, walls.
The King of Hmong people in Dong Van
Hmong Kings named Vuong Chinh Duc, who was a mandarin of Dong Van area in the 19th century of Vietnam. He became rich because of selling opium and weapon with the Chinese and French army. He has the power and was respected by Hmong ethnic groups in this mountain area because he helped Hmong people have food and kept independence during French colonic time.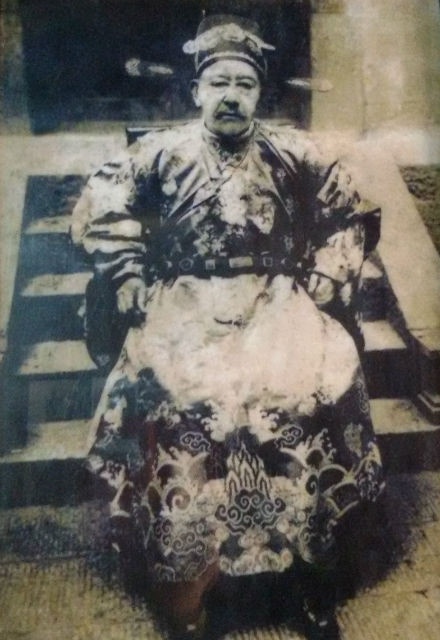 Vuong Chinh Duc- Hmong King in Ha Giang, Vietnam
After that, his son supported Vietnam revolution and was a good friend of Ho Chi Minh – the first Vietnam president. Now his house was opened for tourists. If you like history, you can listen and learn so much history story of this building, the life of Hmong people in Dong Van in the French colonic period. It's also interesting Ha Giang attractions.
7. Lung Tam hemp weaving village
Joining a Ha Giang tour to have a chance to visit Lung Tam handicraft hemp weaving village.
a.Making hemp fabric
This is the residence of the H'Mong ethnic group famous for hemp weaving, indigo dyed and painted beeswax. Hemp fields have been harvested for just over two months. H'Mong people cut them and dried them for processing into fibers. When separating the hemp shells, the woman's hand must be very clever for hemp with equal thickness and not broken halfway. These bundles of fiber have only remaining fiber after being grinned and then rolled into large fibers. After several times boiling with ash water and once boiled with beeswax, the linen was white and softer.
H'Mong people usually weave with a wooden frame. The cloth was washed several times for the white after woven. Then the cloth is spread over a round log, and they use a slab of beeswax to slide it until the fabric is flat. Making good linen is the pride of every H'Mong woman, so they are always careful in every step. Therefore, they have formed very strict conventions such as abstinence from men approaching when women strap the yarn into the frame because the yarn is broken and misplaced. The fabric is rough, it needs to be washed several times, soaked ash and dried so as to bring the garment. A good fabric is smooth, white, and small yarns… You always feel soft and cool when wearing.
You can see how to make the Hmong traditional clothes via this video
Dyeing the indigo clothes by bee wax
H'Mong people in Lung Tam are not only good at weaving fabrics but also have indigo dyeing techniques that are hard to match. Indigo dyeing is a hard job, it takes a lot of time and requires high patience. People usually soak the cloth in an indigo solution for about an hour, then pick out to drain and then soak again. The process is repeated 5-6 times to bring the fabric to dry. Whenever a piece of cloth is dry, it is brought back into the dip; That's about 8-10 times. The time for soaking the fabric up in shiny black depends a lot on the weather. In the sun, each piece of cloth takes only 3-4 days to be dyed. If it rains, the period may last up to 2 months. Because of being so dyed, the indigo color of the H'Mong people is very durable and always fresh.
Hemp is not only durable but also known as a health product, mold-free, highly absorbable, airy function. It is also the reason that the demand for fashion consumption, especially foreign customers are increasingly high. This is a great opportunity for the products of the misty land to attract tourists to Ha Giang.
8. Ethnic Culture & tourism villages – the new Ha Giang attractions
Ha Giang has many different ethnic groups with colorful, unique and interesting customs. Although the modern life affected the life of ethnic people. However, most of the groups in Ha Giang still keep their traditional culture such as house architecture, clothes and belief.
If you want to explore and experience the culture of local when traveling Ha Giang, try to visit and stay in some culture and tourism villages.
For example:
Thon Tha and Ha Thanh village – the village of Tay People
From Ha Giang city about 5- 7km to the west, there are 2 community-based ecotourism villages of The Tay ethnic people are Thon Tha and Ha Thanh village.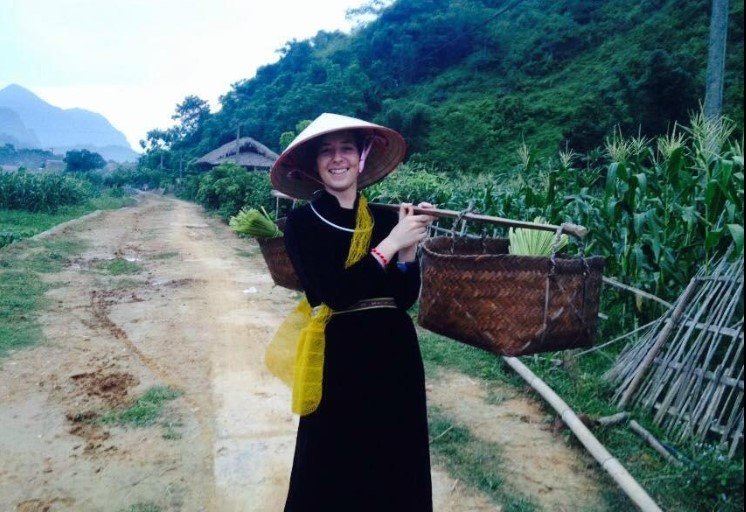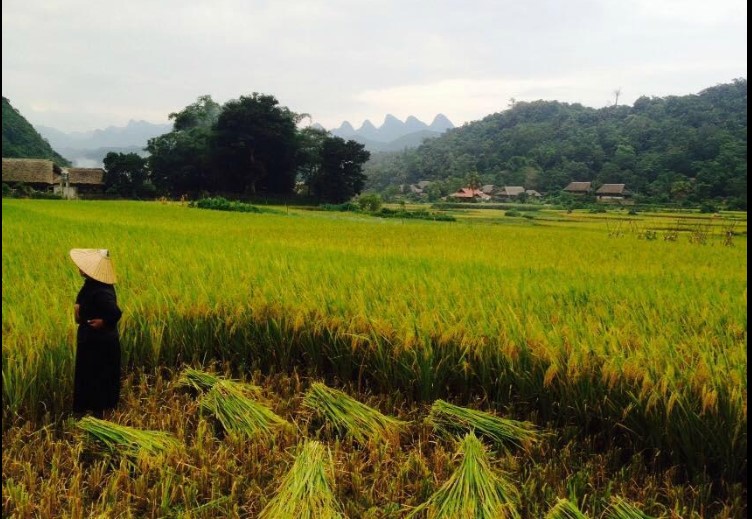 Tay people live on the stilt houses, gather together from 20-50house hold, near the flat rice fields and stream.  The architecture of the Tay consists of palm roofs, the wooden floors, and will bring you the feeling of peace and quiet when you stay here. Along with these lovely accommodations, you can trek around the village to admire the beauty of the terraced rice fields.
Thon Tha village- Tay people house- Ha Giang tourist attraction
Nam Dam village – the village of Dao people
Nam Dam village located in Quan Ba district, near Heaven gate, 40km far from Ha Giang city. All houses in the villages were built from clay with thick walls, all made by hand. You will be interested with this special architecture of local people in the mountainous of Ha Giang- which helps them to survive before the extreme climate in Ha Giang. These houses keep warm in winter, avoid the wind and foggy and keep cool in summer.
Experience to stay, eat and work in a homestay of Dao people is one of the most interesting activities in your Ha Giang trip.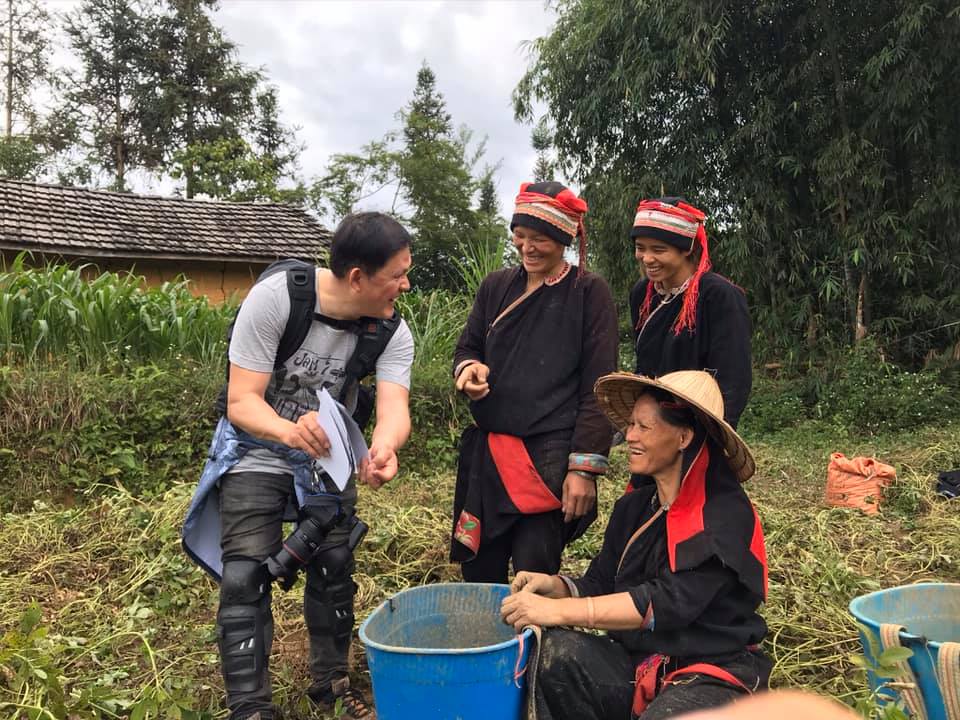 Homestay of Hmong people in Dong Van and Meo Vac
Hmong people are the main group in Dong Van and Meo Vac. So if you want to learn deeply about their culture, try to eat their special food, stay in their house, it's the new attractions for you.
This is a tourist group wearing the traditional clothes of Hmong people and learn traditional dancing with locals. It's one of the new attractions and activities of Zonitrip. If you like it, you can book one Ha Giang trip with us.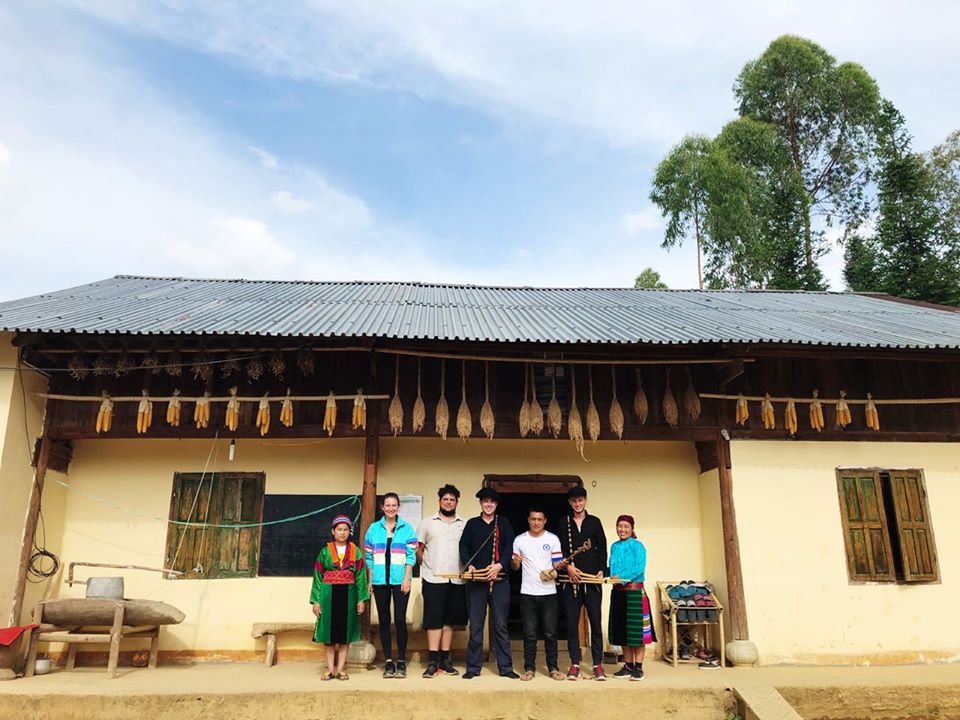 Lo Lo Chai village- Ha Giang, VIetnam- Ha GIang tourist attraction
As one of the smallest group and live in remote area, so not many people know about Lo Lo group in Ha Giang, Vietnam. But their culture is very interesting from beautiful traditional clothes to festivals, beliefs. Now, to protect and develop their culture, there is a new culture tourism village were open in Lo Lo Chai village- near Lung Cu flag pole.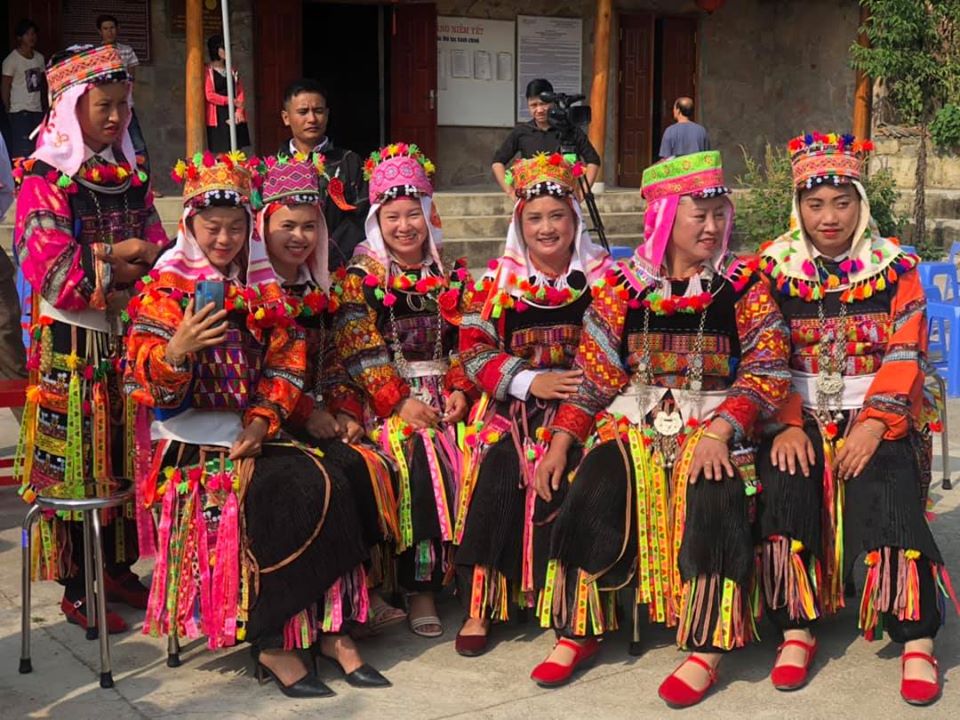 Conclusion
Above are some main Ha Giang attractions, there are also more interesting destinations and things are waiting for you come to explore. If you need to help to plan the Ha Giang trip such as itinerary, transportation, guide information, etc, don't hesitate to send an email for us, we are willing to help you!
If this blog is useful, let like and share it!
——————————
ZONITRIP provide the equipment, the experts help you explore the beaten track in Vietnam, you provide the energy. Get set. Go Active.
Tel/Whatsapp: +84-(0)38-992-7861
Email : info@zonitrip.com